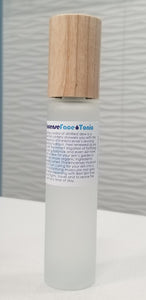 Frankincense Face Tonic 50ml
Regular price $30.00 Sale
Refreshing
Frankincense 
Face 
Tonic
is a skin-quenching drink that drenches pores with its cherished
 moisture
that skin adores
. 
Fundamentally, this Frankincense water is an aqueous version of the aromatic essential oil. It is a face tonic with a fine fragrance and ethereal effectiveness
 for hydrating skin.
Frankincense Face Tonic gives instant irrigation of epic proportions. It refreshes as it infuses the face with the ancient power of a double dose Frankincense, which is a smoothing, soothing "pick-me-up in a bottle." 
Turn caring for your skin into a mediation with this 
fortifying molecular
 mist that may be used to revitalize skin after cleansing, shaving and to revive the spirit anytime of day.